Zero Eviction
Why is the Zero Eviction Campaign urgent both in the cities and the countryside? 
This article reminds us that half a million people could be evicted in June 2022 in Brazil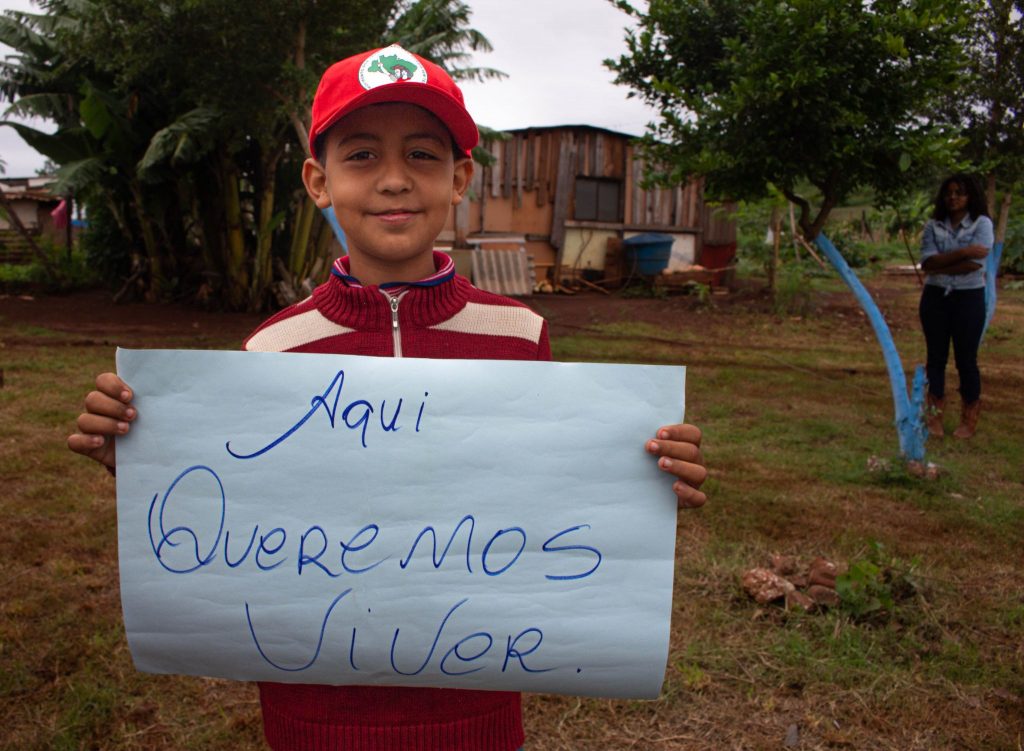 By Kelli Mafort*
From the MST webpage
The Zero Eviction Campaign is an urgent call to address a serious problem in Brazil: that to live, work, and feed yourself is a class privilege.
Research conducted by the Gallup Institute and published in 2021 indicates that in the previous 12 months, among 20% of the poorest people, 75% of them did not have enough money to buy food. And according to projections by the MB Associates, inflation rates for food goods will increase to 12%. Regarding housing, there are currently 6 million people who are unhoused due to an increased lack of housing, according to research published in the Estudo da Fundação João Pinheiro.
According to the Brazilian Constitution, life is considered to be a higher priority than private property and not the contrary but given these times in which we witness the destruction of our fragile democracy, the highest law of the land is being shredded, principally attacking those chapters that apply to basic human rights and which define those rights that are least upheld in real life.
But what in fact could ensure that these rights are upheld? Every day it becomes more evident that only popular grassroots struggles and pressure from a wide range of our society can put life above all other interests, and that is why we need to strongly lift up the rights to food, housing, land and jobs.
Zero Eviction (Despejo Zero) is a Campaign that is coordinated by social movements, both urban and rural grassroots people's movements against removals, evictions and repossessions that was launched in June 2020. And during the pandemic the campaign was able to obtain an important concrete success: the Allegation of Non-Compliance (ADPF nº 828) for not fulfilling a fundamental rule in which the Federal Supreme Court (STF) suspended all evictions, both urban and rural, during the pandemic for a defined period. And in October 2021 a Law for Zero Evictions ( Lei do Despejo Zero) in urban areas, even though the rural areas were not covered by this legislation due to an unscrupulous strategy implemented by the Agricultural Caucus of he Parliament. In addition, as a result of the actions of this Campaign there were several Zero Evictions laws passed at state levels such as those in Rio Grande do Norte and Pernambuco.
Another important source of support for the Zero Evictions proposed measures come through Resolution # 10 of the Nation Human Rights Council (Resolução nº 10 do CNDH) and Recommendation # 90 of the National Council for Justice (Recomendação nº 90 do CNJ).
But now we are once again facing a serious threat: at least 500,000 people will become unhoused or face landlessness as of July 1st, which will only aggravate the already dire social situation in the country that already has 500,000 people living on the streets, according to the National Movement of Street People (Movimento Nacional da População de Rua). (This number is an estimate based upon empirical evidence given that the official data of the Applied Economics Institute (IPEA, Instituto de Pesquisa Econômica Aplicada), that indicates that as of March 2020 there were 221,869 people living on the streets — a situation that worsened during the pandemic). Historically, street dwellers have suffered from a huge lack of targeted social policies and no control over constant state sponsored violence that they face.
On June 30th, 2022, the moratorium on evictions will expire as the Supreme Court's ADPF 828 ends. As of that date there will be an avalanche of evictions, given that there are numerous repossession petitions in the courts that were deferred by the Supreme Court action. According to the Zero Evictions Campaign, at least 14,600 people are involved in court cases related to repossession petitions that were deferred specifically as a result of the ADPF 828.
It is important to remember that ADPF 828 was initially filed in May 2021 by the PSOL – Socialism and Liberty Party, followed by several entities of the Zero Eviction Campaign that joined as amicus curie. Sensitive to the health situation in the country, the STF suspended urban and rural evictions until December 03, and with a strong mobilization of society, this deadline was extended until March 31, 2022 when there was a new mobilization, which ended up sensitizing the STF to extend the deadline until June 30, the period of validity of the ADPF.
The main argument for the extension of ADPF 828, which was adopted until then by the STF, is the existence of the Covid-19 pandemic and its health impacts on the most vulnerable in society. The STF was supported by the ESPIN – Public Health Emergency of National Importance, which established parameters for the adoption of measures in view of the severity of the pandemic. However, on May 22, the Bolsonaro government announced the end of the Health Emergency.
But the pandemic is not over. Infection cases remain high and, despite the decrease in the number of deaths thanks to vaccine protection, we still have a high weekly average of deaths, which is very worrying and can never be normalized.
In addition to the health aspect, it is necessary to take into account the social and economic impacts that the pandemic has left, especially on the lives of the poorest, in addition to a worsening of living conditions due to other factors such as unemployment, rising prices for food, rent, cooking gas and fuel. That is why it is essential to adopt a transition period for the post-pandemic period, and to postpone the adoption of extreme measures of reintegration of possession as much as possible. As we know, evictions are inhumane at any time.
Who can avoid the eviction of half a million people in June?
Despite the validity of ADPF 828 until June 30, truth be told, evictions are happening. This is due to several isolated or combined factors: evictions carried out by police or militia forces, illegally, without a court order; repossessions issued by judges of first or second instance who ignore ADPF 828 (and often these evictions occur so quickly that there is no time for appeal by peoples' lawyers, in these situations, eviction as a fait accompli stands out); and finally, occupations that took place after March 20, 2020, a period determined by the STF as a legal framework for priority protection of ADPF 828.
It is important to remember that occupations carried out after this date cannot be evicted in any way, as the conditions that indicate how the exceptionality of the reintegration of possession must occur must be observed, involving a prior conciliation hearing, respect for human rights, among other factors.
Therefore, an eviction situation that did not stop during the pandemic can be aggravated with the end of the validity of ADPF 828, and if we add the 500 thousand people who can be evicted to the 500 thousand people who are already living on the streets, we can have 1 million Brazilians in a situation of extreme gravity and risk.
At the moment, the ones who can avoid this situation are the STF ministers, as the most immediate decision that can avoid mass eviction is the extension of ADPF 828. In addition to the Federal Supreme Court, there is an initiative for a new zero eviction bill , as the previous Zero Eviction Law expired on December 31, 2021. But it is worth remembering that the process of approving a bill is slow, and it must be approved by the House, the Senate and sanctioned by the president.
We continue to mobilize in our encampments and agrarian reform settlements, along with the movements fighting for popular housing and their various occupations, so that the eviction of our families is avoided, which will mean more hunger and violence.
We know that the fight for Zero Eviction has the character of resistance, but in addition, we demand that a broad agrarian reform and urban reform be carried out in the country, to fulfill the essential human right to land, housing, food and work.
*Kelli Mafort is a member of the National Coordination of the MST
**Edited by Fernanda Alcântara